Briquetting presses GP Genius 2/50, 2/60, 2/70
For volume reduction and production of heating material
The GP Genius series was developed for briquetting chips and dusts especially. These high-performance, robust and high-quality machines compress homogenous material to form com-pact briquettes. Due to its highly effective hydraulic system, their wattage is extremely low considering their briquetting output.
The machine is extremely silent, requires only little room and can be set up almost anywhere. With the automated material feed, no operating staff is necessary.
The machines have been designed as system components and can therefore be easily customised.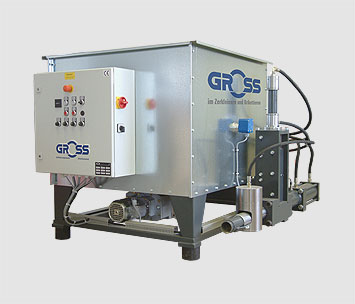 Applications
Volume reduction up to 90 %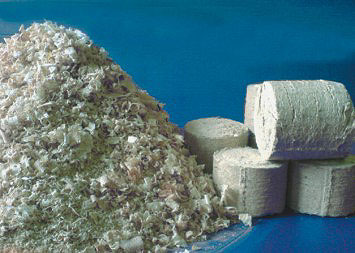 2,5 kg wood briquettes ~ 1 l heating oil
1 t wood briquettes ~ 400 l heating oil
Applications:
Volume reduction
Recycling
Document disposal
Compacting filter dust
Recyclable waste
....... etc.
Material suited for Briquetting:
Shavings from wood processing
Filter dust
Wood chips
Hay
Paper
Polyurethane foam
Styrofoam
....... etc.
Advantages from volume reduction:
Reduced storage and transport costs
With briquettes, there is almost no risk of self-ignition or dust explosion
Reduction of energy costs
Through use as fuel
With the continuous production of waste material it makes sense and becomes
necessary to provide for their appropriate and efficient disposal.

Details

Filling cylinder
with damped end bearing
and dust-tight filling shaft

Agitator,
conveyor worm supercharger
and level sensor inside


Nonwearing
electronic sensors

Adjustable pressure

Easy transport

PLC-Control

Transport pipe connection

Distributing warehouse

Function



Mode of Operation
Material is fed into the hopper (holds about 1 m³) manually or with a filtering installation. The agitator continuously fills the channel ofthe spiral output. The conveyor then transports the material to the pre-compressor. A hydraulic fill pusher then pushes the material into the actual press chamber. The pressing tongs that are also hydraulically controlled, compress the material in connection with a specially hardened press cylinder and provide excellent briquette quality. Compression is performed without binding agents.
Technical Data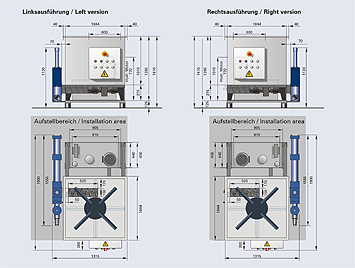 All models are supplied complete with hydraulic oil as well as safety switches for oil temperatures and the PLC for fully automatic operation.

Demonstrations and tests with your materials are possible in our technical laboratory by prior agreement.