Four Shaft Shredders
GZ 30-50 - The Large Wood Specialist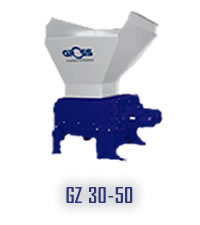 The Gross range of four-shaft shredders enables you to shred and recycle long and oversize wood waste with ease. With rates of throughput from 300 to 2000kg/hour it is powerful yet versatile.
Uses
The GZ 30 – 50 range is particularly useful for timber merchants and other processors of long and oversized wood waste. It will effortlessly process mature timber, long boards, pallets, packaging, and cardboard of any size and quantity. The Gross four-shaft shredders are used extensively in the wood processing industry.
Benefits
The Gross approach to precision technology and innovative design means that our four-shaft shredders are reliable, versatile machines. These powerful machines have a surprisingly quiet operating noise level at 76dB (A) due to the extremely low rotational speed of the shafts. At the same time, they are able to process up to 2000 kg per hour, keeping your storage needs low.
How it Works
Materials are fed through the hopper of the four-shaft shredder to the cutter. The powerful ripping teeth of the cutting discs grab and shred the material. The clearing plates push the shredded material through the clearance between the main cutters and then the material is discharged through the screen below the cutter. The machines are equipped with automatic overload protection and a reverse switch.