Briquetting Presses
The GP Series - The Versatile Briquetting Press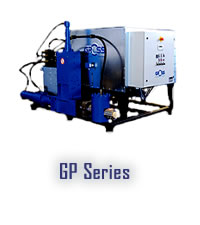 The number one choice for the wood processing industry, the GP series of briquetting machines are robust and reliable machines which can press a variety of wood waste and many other materials too.
Uses
These are compact machines which, like the Genius series, can be used in any size of business. They are particularly useful for carpenters, joiners, furniture manufacturers and others who produce large volumes of wood shavings and wood chips. The GP series also processes paper, different types of cardboard, Styrofoam, straw, hay and many other materials.
Benefits
The GP series is small, easy to maintain, and cost and fuel efficient. It helps you to save money on waste processing and heating bills when used in conjunction with a wood burner.
How it Works
The material to be processed is fed into the container either manually or by way of a filter or conveyor belt. The permanent mixer and a separately controlled discharge screw-transport, feed the material into the press chamber. The material is pre-pressed and then compressed, without the aid of binding materials. The maximum material moisture level does not exceed 18%. The output, depending on the machine, can be up to 350 kg/h and briquettes with a diameter of 50mm, 60mm or 70mm are produced.
The briquette press is powered by a 7.5kw to 11kw electric motor.
GP Series briquetting machine technical data >>>>