Briquetting Presses
The Genius Series – The Wood Briquetting Specialist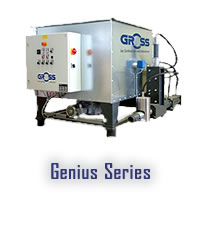 The Genius series is designed and engineered specifically for processing wood chips and dust. These robust and high-performance machines compress the materials to form compact, uniform briquettes, ideal for burning as fuel.
Uses
A compact machine that requires little space, the Genus series is perfect for businesses of any size who want to recycle and reuse their waste material. The briquettes can be used as fuel for wood burners to provide heating, thus turning your waste into a valuable commodity.
Benefits
The Genus series has a highly effective hydraulic system which makes it extremely cost efficient to run. It is compact and versatile and with an automated feed it does not require operating staff. It is designed as system components, which means that you can customise it to suit your needs. Our customers find this machine indispensible once they have it operating on-site.
How it Works
Material is fed, either manually or with a filtering installation, into the hopper which holds about 1m³. The agitator continuously fills the channel of the spiral output. The conveyor then transports the material to the pre-compressor. A hydraulic fill pusher then pushes the material into the actual press chamber. The pressing tongs, which are also hydraulically controlled, compress the material into a specially hardened press cylinder, providing excellent briquette quality. Compression is performed without binding agents.
Genius Series briquetting machine technical data >>>>