Single Shaft Shredder
Gaz 82 - The Small Wood Specialist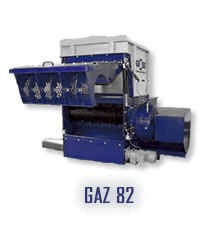 The slow turning single shaft grinders GAZ 82 and GAZ 82 S are specially built to meet the demands of the woodworking industry. They can shred all types of wood waste such as chippings, pallets and particle board. We start with a basic model and then equip it to your exact requirements (throughput capacities, hopper and rotor design etc.).
Uses
The Gaz 82 is ideal for you if you generate lots of wood waste. Our customers include furniture manufacturers, window and door companies, and building contractors. They are particularly suited to large volumes of smaller waste such as pallets and hardboard.
Benefits
You can process high volumes of wood waste quickly with the Gaz 82, keeping your waste storage and removal costs down and generating fuel for your industrial wood burners if you are reusing your waste to provide heating. The basic machine is highly customisable, meaning that you can match it to your own requirements, for instance adding sound proofing or a specific rotor design or hopper.
How it Works
Material is fed through the hopper in front of a hydraulically operated pusher which pushes the material, under load-dependent control, onto the revolving rotor. The material is then shredded between the rotor knives and a fixed counterknife. The pusher is fitted with wiper strips which prevent material from entering between the drawer and machine housing. The perforated sieve with varying hole diameters determines the size of the chippings or shavings. Finally, the chippings or shavings are removed from the machine by means of a suction device or a screw conveyor. As soon as the material in the hopper has been completely shredded, the machine switches off automatically.