Single Shaft Shredders
Gaz 102-252 - The Power All-Rounder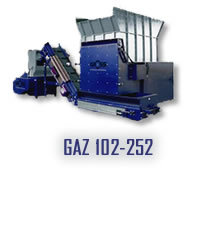 A shredding machine for the professionals, the Gaz 102 – 252 series shreds high volumes of all kinds of waste materials including woods and plastics. With high performance motors and turbo coupling this is the largest of our single shaft shredders and it is suitable for large scale waste shredding.
Uses
The Gaz 102 – 252 will shred all types of wood waste and hard and tough plastics. Suitable for internal or external use they are designed to manage large volumes of waste, which can be processed into chippings or shavings of any size. These shredders are an essential and invaluable part of an environmentally responsible large scale manufacturing process.
Benefits
Huge cost savings are possible with the Gaz 102-252 series. You will reduce your waste storage and disposal costs significantly and, coupled with waste burning heaters, you can cut your heating bills by thousands of pounds annually. As with all the Gross technology, we can adapt our basic models to your exact requirements, so that you can add features such as sound proofing for indoor use or customised hoppers to help automate your manufacturing to waste recycling process.
How it Works
Material is fed through the hopper in front of a hydraulically operated drawer, which pushes the material, load-controlled, onto the turning rotor. The materials are then shredded between the rotor knives and a fixed counterknife bar. The drawer has stripping bars that prevent material from entering between the drawer and machine housing. The processed material can be removed with a spiral conveyor, suction device, or a conveyor belt or chain conveyor. Once the material is shredded, the machine will automatically shut off.
Gaz 102-252 technical data >>>>