Single Shaft Shredders
GAZ single-shaft shredder
Shredding technology for professionals
The GAZ 102 – GAZ 252 series was designed for shredding of large material quantities. The single-shaft shredders are suitable for shredding all types of woods, and hard and tough plastics.
The high-performance motors from 1 x 22 kW to 2 x 90 kW with turbo coupling provide for high throughput.

Applications

Two-step shredding single-shaft shredder
GAZ 252 Herkules I, combined with GNZ mill

GAZ 122 on mount with extraction

GAZ 202 for pallet shredding

GAZ 102 in pit

GAZ 102 set up below ground,
with hopper expansion
Applications
| | | | |
| --- | --- | --- | --- |
| Waste from furniture manufacturing | Hardwood waste | Mixed waste | Broken-down pallets |
Details

Transmission
and hydro coupling

Hydraulics

Profile rotor with welded
knife carriers

Screen

Square knife and
concave ground knife

Switching cabinet /
SPS control
Function

Material is fed through the hopper in front of a hydraulically operated drawer, which pushes the material load-controlled onto the turning rotor. The fed materials are shredded between the rotor knives and a fixed counterknife bar. The drawer has stripping bars that prevent material from entering between the drawer and machine housing.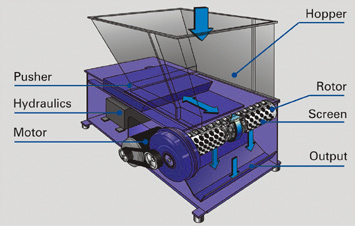 Material can be removed with a spiral conveyor, suction device, or a conveyor belt or chain conveyor.
Once the material is shredded, the machine will automatically shut off.
Technical Data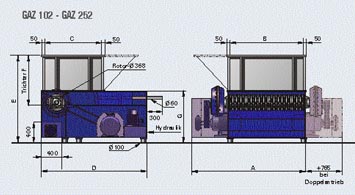 Further technical information in the brochure
Single-shaft schredder GAZ 102 - 252 brochure download